Applicators for sealing processes – Top quality for all applications
All our applicators for sealing vehicle bodies are designed for use with highly viscous materials. Non-contact applicator heads are available, together with contact versions for tasks such as applying triangular beads of glue. An applicator with an individual needle activation function can be used to apply sealant automatically to areas that are hard to access.
EcoGun2 3D – The universal applicator
The EcoGun2 3D enables the use of up to three nozzles and a choice of three different application angles: 0°, 45° and 90°. The valves are directly integrated in the nozzle seat head to reduce the material volume between the needle valve and nozzle. The design of the EcoGun2 3D ensures application seams of optimum quality. The applicator can be fitted with lances of various lengths, and is suitable for all types of application from spraying insulating mats to sealing fine seams.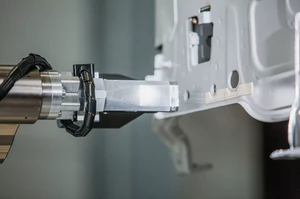 EcoSealJet Pro – Highly versatile, easily movable and fast
EcoSealJet Pro closes the final gaps in the automation of vehicle sealing processes. It is highly precise and reliable, including in areas that are difficult to access, for example in the engine compartment or the headlight units. Even in the case of tasks involving the automatic application of PVC in areas with special contours, drilled holes, bolts and other obstacles, the applicator makes manual work almost entirely unnecessary. The applicator needles can be activated in different configurations and at high frequency to enable the sealing material to be applied to the body with consistent accuracy and to a high standard of quality. This can be controlled on the basis of the speed of the robot and the amount of material to be applied, for example. The applicator is highly versatile, because the application distance and angle can be adjusted. The EcoSealJet Pro seals every seam with high edge definition and no overspray. No sealant material is wasted and the individual activation of the needles prevents two layers of material being applied where the seams meet.
EcoGun 1D – Single-nozzle applicator for sealing
The EcoGun 1D is an ideal applicator for coating the underbody area. It combines impressively simple technology with a top-quality application pattern. Material circulation via the gun is possible, as is the recording of application pressure and temperature. Optional sensor technology can be integrated for this purpose.
The EcoGun2 MD is used in areas requiring coatings with a high edge definition. In automotive production, these coatings are primarily around the sill. The EcoGun2 MD dispenses with the need to mask the sill. Application takes place in several passes, and airless and flatstream methods can be combined.