The first priority for Verind has been, since the beginning, to deeply understand the problems of its customers. In more than half a century of technology and automation evolution, what deeply changed are production processes, but not our philosophy.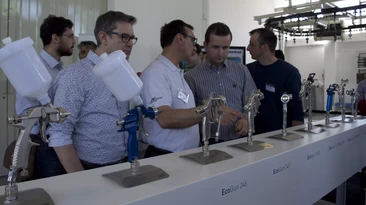 Nowadays Verind is a renowned international company in specialized sectors like industrial painting, surface protection and ultrafiltration. The high research & development potential as well as the experience stemming from a constant collaboration with world leading companies in all fields, identify us a trustworthy partner and supplier for all companies from any sector and size increasingly oriented and sensitive toward new eco-technologies.
Verind is a dynamic company in constant evolution, always able to meet the needs of producers thanks to a very high production flexibility and the ability to adapt to changes and market trends. In our modern laboratories in Milan and in the technological centre in Bietigheim-Bissingen, all customers have the opportunity to test the quality of our technical solutions.